Great News!
posted by The Vidiot @ 10:51 AM Permalink
Update:
Apparently The Vidiot is giving the hospital such a hard time they are making her leave tomorrow. No more lollygagging around the ward for her, eating all them fancy vittles, and flirting with the orderlies, they need the bed for actual sick folks.
So she's over the hill, but not thru the woods, and definitely not yet made it to grandma's house. Recovery's gonna take a long time, but so far, so good (cue sound of wood knocking,)
And a special thanks to
skippy
and
TalkLeft
for their support and kind wishes. There's a reason they're on our blogroll, they're not just good, they're good for you!
Original post: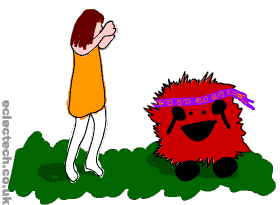 I just received an email from a friend of The Vidiot's.
[Mr. Vidiot] called me around 2:45 yesterday afternoon to say that the doctors had told them that the operation went as well, if not better, than they had hoped. They were going in to see her in a little while.
I'll post more as I soon as I'm done with my happy dance!!!
(animation from
eclectech
)