No. I have a better idea.
posted by The Vidiot @ 4:27 PM Permalink
Kit Bond
said
about the wikileaks leakers,
"It is shocking that any American, much less someone in the Pentagon, would betray his country and possibly put our soldiers at risk by leaking information on the ongoing war in Afghanistan," said the senior Republican on the Senate Intelligence Committee, Kit Bond. "The damage to our national security caused by leaks like this won't stop until we see more perpetrators in orange jump suits,"
No, I think it's motherf-ckers like YOU, sir, who should be put into the orange jump suits.
Now, STFU.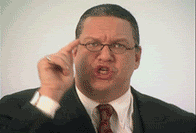 Labels: wikileaks